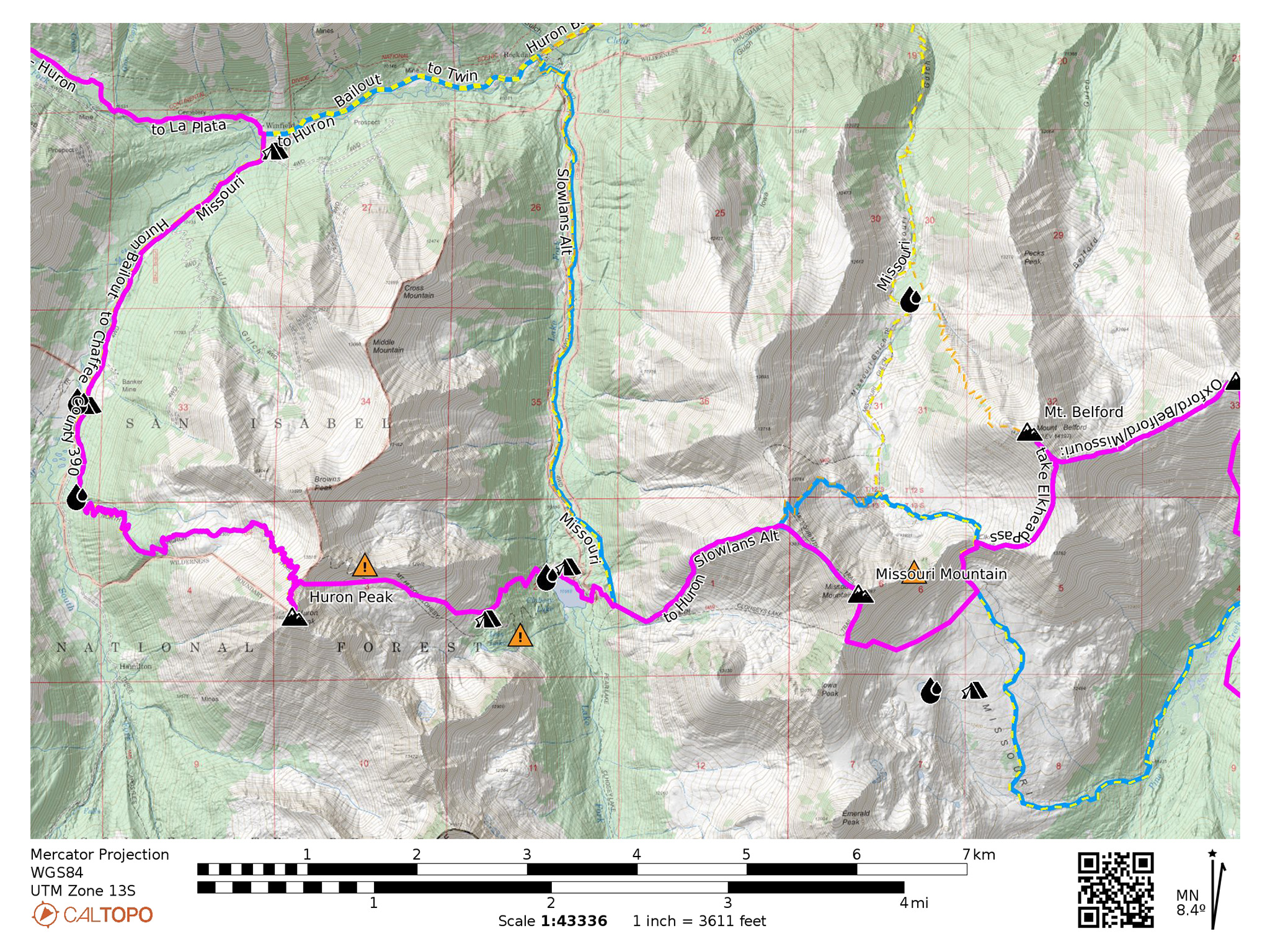 Get ready for a bushwhacking party into a jaw-dropping high alpine basin! Huron is a sleeping mountain in the line, with most people never seeing the awesome sights of it's southern flanks!
Nolan's 14 Line Stats
Nolan's 14 Line
From the summit of Missouri Mountain, head northwest on the ridge on the standard route until 13,867′, then turn left and head west down a ridge. A trail will appear, becoming much more easier to follow the lower you go. The trail will veer into the basin to the south, following a creek. You'll come across a few trail junctions, head towards Clohesy Lake. Wrap tightly around the north side of the lake, and find a reasonable place to cross it just to the north. Once across, continue southwest up the east slopes of Huron Peak.
Although most maps show a deeply switchbacking trail here, this trail has been reabsorbed into the forest. What you will find here is a good amount of deadfall and a sprinkling of cliffs. Do you best to avoid both, as you make your way above treeline and into a beautiful high basin. We've drawn a line to the north to follow, which seems to be the consensus on the way to go. Expect some difficult bushwhacking.
Make your way through the stunted trees and shrubs towards the talus field above. The view to the south is one of the best on the route and camping up high in this basin would be ethereal.
Above, many maps show another deeply switchbacking trail, going up the east ridge of Missouri, but this trail may never have existed in the way it's portrayed on maps. What you will find is a highly technical ridgeline with nearly unclimbable gendarmes. You could gain the ridge near its apex, but do not approach the lower portions of the ridgeline hoping to find a quick and easy way through.
Instead, head directly up the talus, then steep gravel slopes to the Brown's Peak/Huron ridge, and join up with Huron's standard route trail. Take this trail to Huron's summit.
Slowlans Alternative
From the Clohesy Lake, take the 4WD track north to Chaffee County 390. Take a left and head west on Chaffee County 390 to the start of the standard route of Huron Peak. Take this route to the summit.
Water
Camping
Bailing/Resupply
Take the 4WD track north to Chaffee County 390. Turn right onto Chaffee County 390 heading east.
Skipping
Hike down to Clohesy Lake and take the 4WD track north to Chaffee County 390. Head west on Chaffee County 390 to Winfield. Pick up the Nolan's 14 route from Huron to La Plata here. Tons of camping can be found in between.